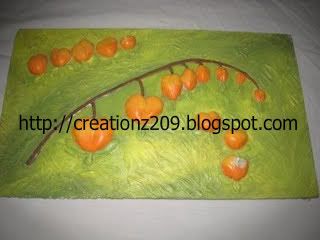 Here we are posting some of the ceramic works done by us. It is one of the earliest form of craft (art) work s that we learnt. It is quite a task to mould the different shapes of leaves, flowers and other details in the beginning,
at times
we used to feel dejected, but later on with lot of practice and patience we could do them quite easily.
One more important thing about doing ceramic work is too use lot of imagination and experimenting , then only we can create many new things or otherwise we end up doing nothing but roses and leaves etc. The dough we prepare for ceramic work must be more pliable, elastic and soft, then only the work comes out without any cracks . Use good quality ceramic powder for the dough making as it plays the most important role in it. once you prepare the dough (ceramic powder+
fevicol
) , keep it covered in a cloth/in a
zip lock
, so that it is not exposed to outside air, which causes the dough to dry up and moulding becomes impossible. we used acrylic and enamel paints for colouring . will try to post some more of the works in the future.