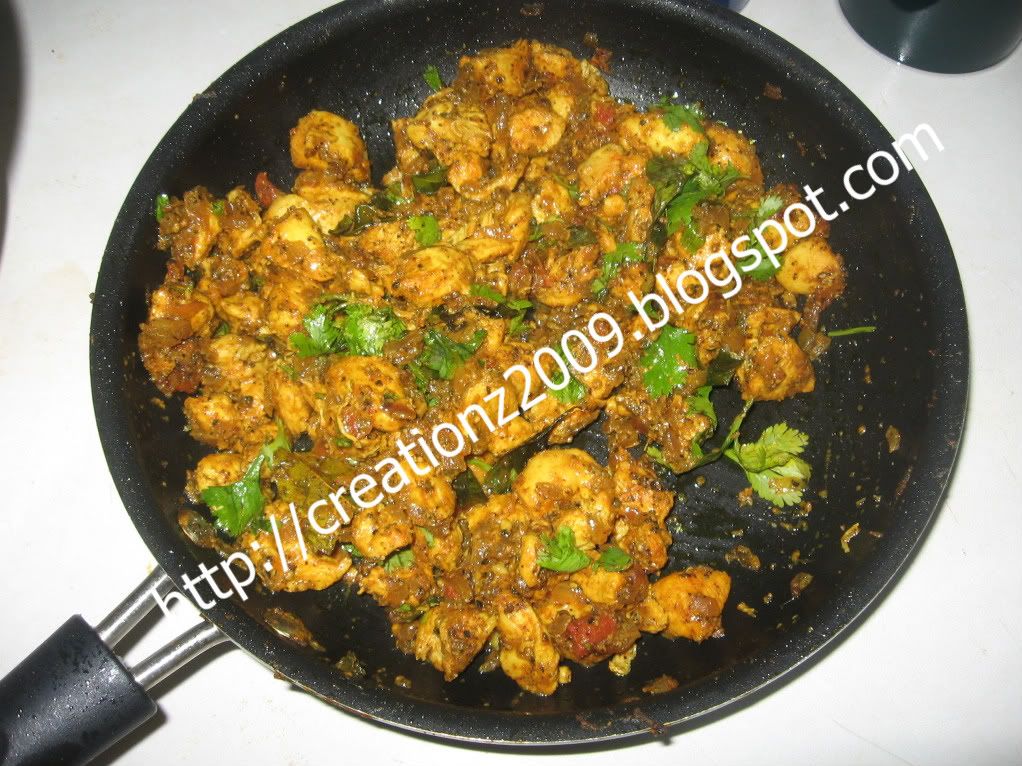 Ingredients

Chicken-1/2 kg ,Big onion (nicely chopped)-2
Tomatoes (chopped)-2
Ginger garlic paste-2 teaspoons
Chili powder-1 table spoon
Coriander powder-1 table spoon
Crushed pepper corns-2 table spoons
Lemon juice-1 table spoon

For seasoning

Cinnamon-3 sticks
Cardamom-3
Clove-3
Bay leaf-little
Fennel seeds-1 teaspoon
Curry leaf-little
Marinate the chicken for 30 minutes with 1 table spoon chili powder mentioned in the ingredients, 1 teaspoon turmeric powder and half the ginger garlic paste. Add half the quantity of salt required also during marinating.

Procedure
It is always better to cook this curry in a kadai than in pressure cooker as the ingredients are added in different stages of cooking.
Pour 2 table spoon of cooking oil and add the items given in 'for seasoning' one by one in the order given. First add the nicely minced onion and sauté till oil separates. Then add the ginger garlic paste and turmeric powder. Stir well so that the pastes don't get burnt. Now add the tomato pieces and try to smash it using the ladle. The smaller the pieces easier it will be to get smashed fast. Now add the coriander powder and mix well. Add ¼ cup of water into the masala. Reduce the flame to medium. Close the kadai and let the masala get cooked for 5 minutes. Now you can see cooked masala with oil on top. In this stage add the marinated chicken pieces. Sauté nicely till the moisture in the chicken comes out. Now there will be enough water in the chicken to get cooked. Add the remaining salt needed also. Close the kadai now and in medium flame cook for 8 to 10 minutes. Check that the chicken pieces are cooked well, if not cook for some more time. Once the pieces are cooked add the crushed pepper corns on top and mix well. Add the lemon juice after switching off the stove. Garnish with coriander leaves.