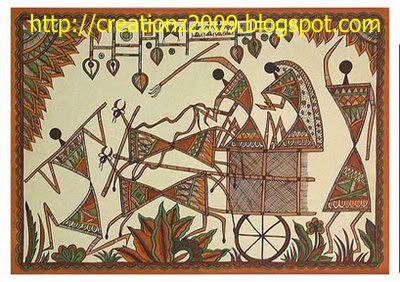 Readers who have read yesterday's post on origin of Warli painting would be interested to learn how to do it. So we thought of cutting down on the suspense. Good luck!
It basically consists of geometrical patterns

•Circle: representing the sun and the moon

•Triangle: triangle derived from mountains and pointed trees

•Square: indicating a sacred enclosure or a piece of land. So the central motive in each ritual painting is the square

These geometric figures are joined together to form beautiful patterns .Like two apex of triangles are joined together to form a human figure.
Materials Required
• Cloth/Handmade paper
• Trace paper
• Metallic colours(for cloth)
• Poster colours (for paper)
• White poster
• Carbon sheet
Instructions
Choose a design.
First draw the required pattern on the trace paper and copy the design into the cloth/paper using carbon sheet.
If using Cloth Paint using metallic colours and let it dry well.
Use Poster colours for paper.
Draw outlines using the white colour and again leave it to dry for 24 hours.